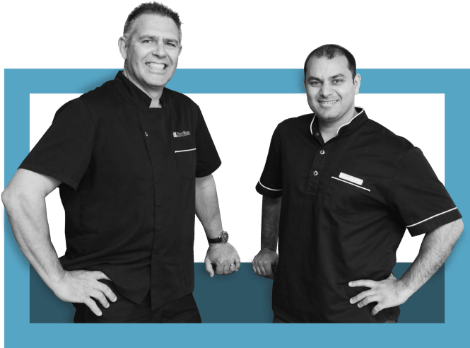 Dr. Dave Blom and Dr. Bashar Humadi
At the Hamilton Dental Centre, we understand that many people have not had the most positive experience with their dentist in the past. That's why so many of our patients are so happy to have found us at our great dental clinic in Rototuna.
We offer a comprehensive range of high-quality dental services, emergency dental treatments and dental surgery including root canals, dental implants, teeth cleaning, teeth whitening, crowns, fillings, dentures and more.
When you come in to see Dr Dave Blom and Dr Bashar Humadi and our experienced team at the Hamilton Dental Centre you won't get your average dental care experience. Our dentists will do our best to ensure a pain-free experience using state of the art dental technology. Everything we do has your dental and oral health care in mind.
Laughter, smiles, hugs and handshakes are commonplace from our patients because it all begins with you.
12 - 18 or 24 Months Interest Free Payments! *

Get a $20 Voucher towards your
first appointment
ACC Dentist Consultations
If you have had an accident and knocked your tooth, it always a good idea to get in to see us.
Cosmetic dentistry
Cosmetic dentistry is used to refer to dental work that improves the appearance of a person's teeth.
Dental implants
Dental implants are a great solution when one or more teeth are missing or need replacing. 
Diagnostics & Prevention
The earlier an issue is picked up the more options you will have in terms of treatment.
Orthodontics inc. Invisalign
Orthodontics is a speciality of dentistry that focuses on the treatment of malocclusions .
Pain-free dentistry
We do our best to ensure the comfort and safety of our patients. We know it's not always easy for you. 
Same Day Crowns
Crowns are tooth-shaped caps which fit over the top of your teeth to strengthen and protect them.
Wisdom teeth
Teeth are all supposed to fit together right? Tell that to your wisdom teeth which have a mind of their own.
Earn money for your school and turn little smiles into
healthy big ones.
Kids between 13-18 years?
We can see them for free!
See what our customers are saying
I am one of those people who avoid the dentist. After having a look on the internet I choose to go with Hamilton Dental and I'm so glad I did. They promised pain free and it was definitely that. The staff are so friendly and helpful.
What a great team. I am such a chicken when it comes to going to the dentist but the team was doing their very best to make me comfortable. The skills with the local anaesthetic were exceptional, right amount for the right duration. 
I have full trust in their professionalism. I always feel treated as a person not just another number. I have already recommended many people for all aspects of their services.